Polyethylene Insulators & Molded Accessories
Sturdy. Dependable. Lifetime Guarantee.
HDPE Insulators Are Built To Last
Across the country, as porcelain insulators crack, chip, and break in transit and during installation utilities are seeing the advantages of HDPE insulators: Tough, light, easy to install, and compatible with bare or covered conductors. There's a reason why Hendrix has the greatest capacity of any distribution insulator manufacturer in the United States — and we're growing.
Since 1965, Hendrix has been the innovator of HDPE distribution insulators. Customer rely on our dependability, with a reported success rate of over 99.95%. Our products have proven themselves repeatedly in the toughest conditions in the world. That's why we're the only distribution insulators that are Guaranteed for Life! We are proud to support your work, and stand behind our products.
Industry Expertise Sets Us Apart
What you can expect from our products
Short Lead Times
Consistent delivery and responsive service
More Reliable And Durable Than Porcelain
Exceeds ANSI electrical and mechanical requirements
Made in the USA
Proudly manufactured in Amherst, NH
Lifetime Guarantee
Resistant to impact damage, breakage, and vandalism
Lighter, Safer And Easier To Handle
Tie Top Pin Insulators
Line Post Insulators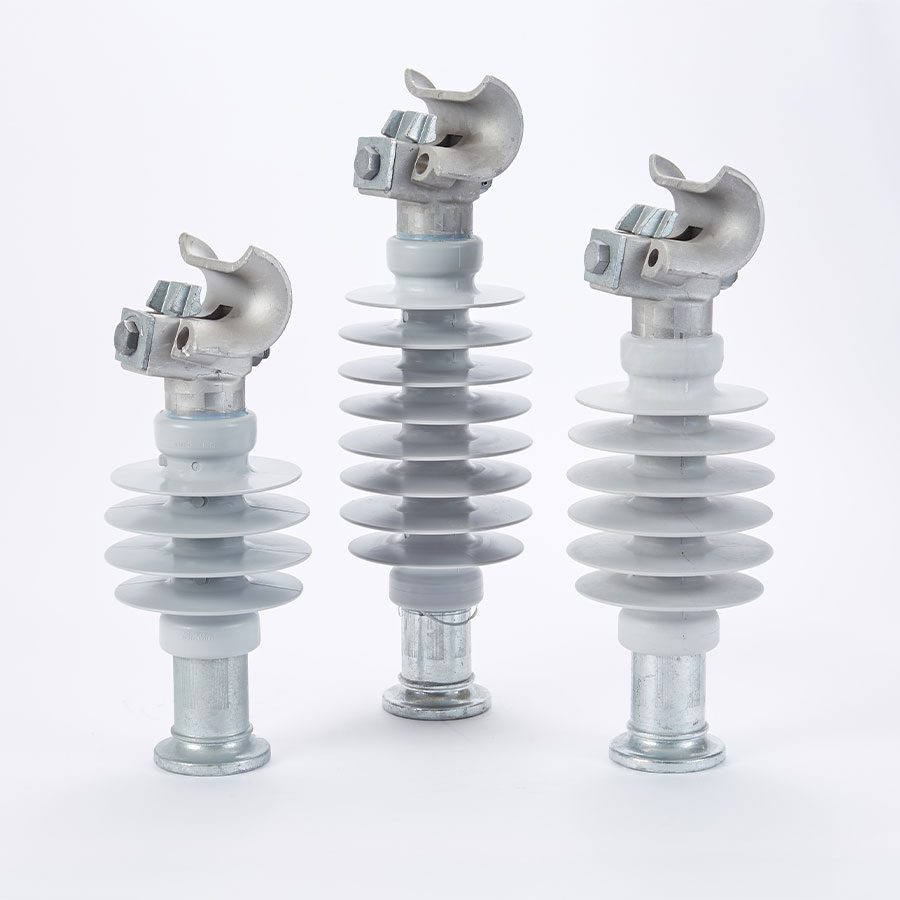 Clamp Top Line Post Insulators
Trunnion Line Post Insulators
Coming Soon!
Station Line Post Insulators
Coming Soon!
"High density polyethylene is lightweight; one person can easily install the insulator. That's less costly, takes less time, and there's much lower risk of back injury for our workers."
Hendrix Molded Products Outperform Porcelain
Exceed ANSI Standards by as much as 30%
Molded from a proprietary blend of gray, track resistant, high density polyethylene, they are ideal for use with all types of construction using either bare wire or covered conductors.
Greater leakage distance
High flashover and impulse values
Lightweight
Vandal resistant
Won't chip, crack or break
Recyclable
"When we used the porcelain post insulator on a single-phase line, that was on a steel pole, we had to insulate between the post insulator and the pole (could not mount the post insulator/pole top bracket directly to the steel pole).  With the ratings the Hendrix insulator has, we will now be able to eliminate the insulation between the two and frame for single phase steel, just as we would for single-phase wood."
Every Install Is Unique, So We We Offer Many Products To Suite Your Needs
Specialty Insulators
Hendrix offers specialty insulators to meet our customer's unique needs and applications. These utilize special blends of HDPE developed by Hendrix. Specialty insulator categories include high temperature, flame retardant, special sized spool insulators, cable restraint Insulators, and white insulators.
Accessories
Hendrix also offers products for specific applications such as cable restraints, phase spacing, vise top inserts for conductor stringing, and a cable spreading tool.
Secondary Voltage
Hendrix offers additional products to help your job go as efficiently as possible, including a cable spreader, cable spreader tool, and vertical secondary spacer & service bails.
Wildlife/Avian Protection
Hendrix designed flame retardant raptor guards for use on pin and vise type insulators. Lineduc, perch preventers, and bushing guards are also offered to prevent wildlife interaction with energized conductors.
We're Everywhere You're Working
Easy to work with. The support you need. A team that's on your side. We can't wait to work with you.